Honest Ape

Add Honest Ape as a friend

Honest Ape will be notified and will have to accept this friendship request, to view updates from Honest Ape and their ratings you must follow them.

Remove Honest Ape as a friend



About me
What is there to say about myself that hasn't been covered extensively in the media and press?
Occupation: Robot Fisticuffs
Married
Lists
Recent reviews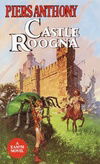 Posted : 9 years, 11 months ago on 3 August 2008 01:58 (A review of
Xanth 3: Castle Roogna
)
So, you know in the movie, "Big", when the young Tom Hanks become an adult? And then he totally has sex with Elizabeth Perkins? Is that pedophilia or statutory rape? I don't know. But the same thing happens in this book. This kid named Dor get shot bank 500 years into the past, right in the middle of some warrior's body, giant new wang and all. Also sent back into time with him is a spider, who for some reason or another is 8 feet tall. Talk about scary. Oh yeah, and there's fighting, hot chicks, magic and all sorts of other cool shit. It's pretty damn good, and one of my favorite Xanth books.

0 comments,
Reply to this entry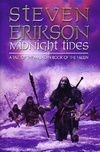 Posted : 10 years, 2 months ago on 29 April 2008 03:41 (A review of
Malazan Book of the Fallen 5: Midnight Tides
)
Just started tearing into this, the 5th book of the "Malazan Book of the Fallen" series. As usual, Erikson switches up the characters and locations in this book, introducing a host of new people and plotlines. Though confusing, I can already tell it will be as worthwhile a read as the last four books in the series.

0 comments,
Reply to this entry
Movies
TV
Games
Music
Books
Favorite Authors
DVDs
Top rated

My dvds page

Rated 1 dvds

Comments